#FFFFFF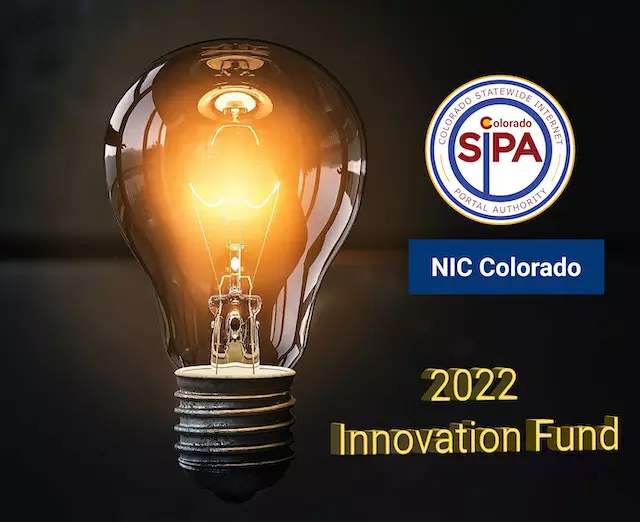 #FFFFFF
The Innovation Fund is designed to connect residents to government by putting more information and services online. 
We are happy to inform you that the SIPA/NIC Colorado Innovation Fund Application is opening on June 1, 2022 for the fourth and final round of the program. The SIPA/NIC Colorado Innovation fund was created in 2019 to reinvest in state agencies by providing funding or in-kind services to support innovative projects for state agencies. Last year, the Innovation Fund received seven applications requesting $652K in funding. Through this program, we have funded 20 projects valued at $1.6M in total investment.
Projects should align with SIPA's overall mission to put more information and services online and to help Colorado residents interact with Colorado governments. Requests for additional office space or staff augmentation do not align with SIPA's mission. Ideally, projects will support State Agencies and align with the Governor's Strategic Priorities.
If any submitter has a question about whether their project meets the criteria for the Innovation Fund, they can contact Will Carter at will@cosipa.gov, who will be happy to discuss their project.
#FFFFFF
You are an eligible applicant if...
You are a Colorado:
♦ State Agency
June 1, 2022 - Application period opens
August 31, 2022 - Application period closes
#FFFFFF
Previously Awarded Projects
Previously awarded projects are listed in the table below, providing examples of ideas and fund requests.
| | | | | |
| --- | --- | --- | --- | --- |
| Project | Agency | Description | Award Amount | Award Year |
| Farm Fresh Program Support | Colorado Department of Agriculture | Expand access to the Farm Fresh publication with additional translations and interactive versions. | $15,000 | 2021 |
| Law Enforcement Records Management System | Colorado Department of Law | Procure a modern records system to control documents and create efficiencies and workflows for DOL's law enforcement units. | $250,000 | 2021 |
| Online Referral and Application Form | Colorado Department of Labor and Employment Division of Vocational Rehabilitation | Provide an online referral and application form so Coloradans with disabilities can easily apply for DVR Services virtually. | $47,000 | 2021 |
| Salesforce Application | Colorado Department of Human Services Aging and Adult Services | Migrating to a new data system to streamline data entry and make work easier for providers and volunteers that provide critical services. | $95,000 | 2021 |
| State-Owned Facilities Map Tool | Colorado Department of Personnel and Administration | Provide a user-friendly map based tool for parties interested in the beneficial use of unused or underutilized state land. | $10,800 | 2021 |
| Study for Underserved and Underrepresented Populations | Colorado Department of Revenue | Conduct a gap analysis for underserved and underrepresented Coloradoans as it pertains to DMV services | $160,000 | 2021 |
| Demography Dashboards and Storymaps | Colorado Department of Local Affairs | Increase its data storage and software licenses to expand its online data visualizations and tools. | $7,000 | 2020 |
| Local Government Information System Modernization | Colorado Department of Local Affairs | Construct user interfaces for DOLA's Local Government Information System and E-Filing Portal (LGIS). | $45,000 | 2020 |
| Online Dispute Resolution | Colorado Judicial Branch | Implement an online dispute resolution platform to reduce court users' barriers to courts to be able resolve civil disputes online. | $20,000 | 2020 |
| Student Transfers | Colorado Department of Higher Education | Provide students information about transfer opportunities, primarily focused on transfer from the community college system to universities. | $68,000 | 2020 |
| User Interface/User Experience Study for Department of Motor Vehicle Platforms | Colorado Department of Revenue | A study of DMV customer platforms to improve customer utilization of online and remote services. | $150,000 | 2020 |
| Water Quality Control | Colorado Department of Public Health and Environment | Develop a program to store and share important water quality information and significant water impairment data. | $30,000 | 2020 |
| Chatbot Pilot | Governor's Office of Information Technology | A chatbot pilot for Colorado.gov bridging all agency websites with comprehensive search and FAQs. | $25,000 | 2019 |
| Go Code Colorado and Data Accessibility | Governor's Office of Information Technology and Secretary of State's Office | Improve the breadth and accessibility of Colorado's open data to make more data sets available and expand access to existing data. | $50,000 | 2019 |
| Governor's Dashboard | Governor's Office | Enhance the Governor's Dashboard with new data visualizations and monthly data updates. | $75,000 | 2019 |
| Inventory Management System | Colorado Department of Corrections Colorado Corrections Industries | Develop and implement an inventory management system to allow the Canteen to more accurately track inventory and orders. | $50,000 | 2019 |
| Legal Help Center Website  | Colorado Judicial Branch | Develop an interactive website that will provide plain language legal information and serve as a hub to connect Colorado citizens to legal resources. | $100,000 | 2019 |
| Revenue Online Updates | Colorado Department of Revenue | Enhance the Revenue Online system to be more intuitive and technologically current. | $50,000 | 2019 |
| Web Portal Standardization | Governor's Office of Information Technology | Create a common look and feel to the State of Colorado web presence. | $100,000 | 2019 |