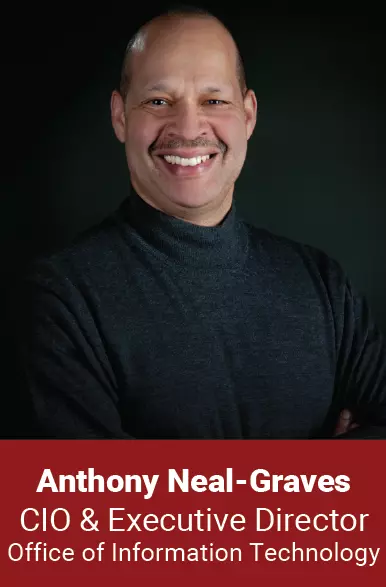 Anthony Neal-Graves, Office of Information Technology
Anthony (Tony) Neal-Graves, SIPA Board Chair, was appointed CIO and Executive Director for the Governor's Office of Information Technology (OIT) in September 2020. Concurrently, he is also OIT's Chief Operations Officer overseeing the finance, human resources, and legislative affairs for our organization of ~1,000 employees with an annual budget of $380 million as well as the Executive Director of the Colorado Broadband Office, which is responsible for ensuring all households have access to affordable internet. Tony established key partnerships in the Colorado General Assembly that enabled the successful bipartisan legislation in 2018 to fund the Broadband Grant Program with over $115 million. Read more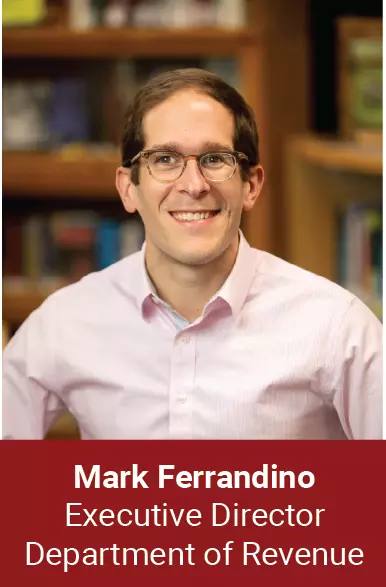 Mark Ferrandino, Department of Revenue
Mark Ferrandino, SIPA Board Vice Chair, is the Executive Director of the Department of Revenue (DOR). He joined DOR as ED in 2020. In his role, he oversees the five major divisions within the organization including the Department of Motor Vehicles, Taxation Division, Colorado Lottery, Specialized Business Group and Marijuana Enforcement Division.
He attended the University of Rochester, where he earned his bachelor's degree in political science and economics in 1999, and a master's degree in public policy analysis in 2000. Mark worked as a policy analyst for the White House Office of Management and Budget in Washington, D.C.
After relocating to Colorado, he worked as program analyst for the U.S. Department of Justice, then served as the senior budget analyst for the Colorado Department of Health Care Policy and Financing until 2007 before being appointed to the Colorado House of Representatives. While in the legislature, he was elected Speaker of the House by his peers and served in that role from 2013-14. After his service in the legislature he joined Denver Public Schools as Chief Financial Officer before transitioning into the Deputy Superintendent of Operations role. Mark worked at leading several of the district's largest departments in this role.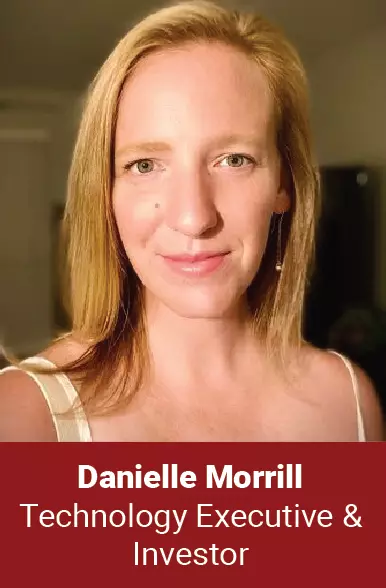 Danielle Morrill, Firstparty Labs
Danielle Morrill, SIPA Board Secretary, works as Cofounder and Chief Technology Officer of Firstparty Labs, where she builds products that empower businesses to take control of the data and experiences of their customers. She is also the owner of Morrill Coaching, an executive coaching business focused on building leadership skills, resilience, and continuous adult development among startup founders and CEOs. Previously, Danielle was Senior Director of Marketing and General Manager of Meltano at GitLab. Prior to GitLab, she was CEO and Cofounder of Mattermark, which was acquired in 2017. She is a graduate of the startup accelerator program Y Combinator, and was also an early team member leading Marketing at Twilio. Danielle lives in Denver, Colorado with her husband and two labradors Emo and Taco.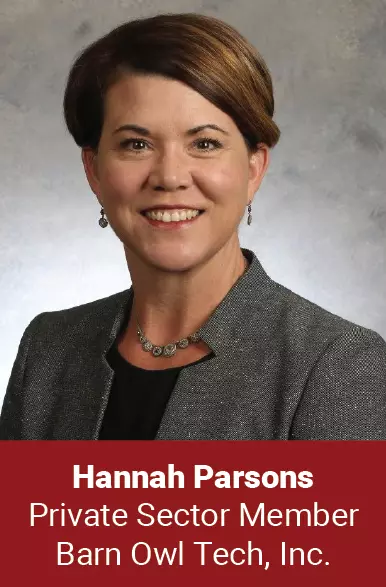 Hannah Parsons, Barn Owl Tech, Inc.
Hannah Parsons, SIPA Board Treasurer, is the Chief Revenue Officer at Barn Owl Tech, Inc. Prior to her position at Barn Owl Tech Inc., she was the CEO at Exponential Impact. She spent 2 years with the Colorado Springs Chamber & EDC, recently, in the position of Chief Economic Development Officer. Hannah has worked in financial services, real estate, community and economic development. She co-founded Epicentral Coworking in Downtown Colorado Springs and has served the startup community in numerous volunteer roles. Exponential Impact is a mashup of Hannah's diverse career history and interests. It perpetuates her passion for business and community, and fuels her love of learning.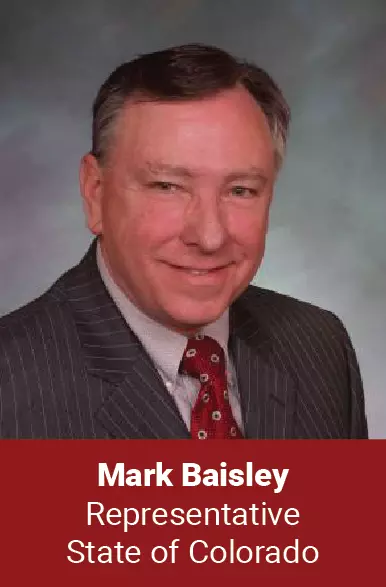 Mark Baisley, State Representative
Mark Baisley is currently a member of the Colorado House of Representatives, representing District 39. Mark holds a Bachelor of Science degree with majors in Computer Information Systems and Business Administration from Columbia College and has a forty-year career in information technology in aerospace, defense, education and financial services. Read More.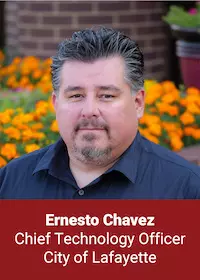 Ernesto Chavez, City of Lafayette
Ernesto is passionate for developing and building high-performing technical teams with a track record of doing so in local, federal, commercial and military environments.   He currently serves as the Chief Technology Officer for the City of Lafayette where he has transformed the Information Technology (IT)Team and technologies after joining the City post ransomware event.  Previously, he served as the City and County of Broomfield's Director of Information Technology for five years, eight years as a Federal Employee serving under the Office of Natural Resources Revenue, 2 years in the commercial sector manager developing a large team located in multiple locations across the U.S., and seven years as a Communications and Information Officer for the U.S. Air Force.  Ernesto received his Bachelors at Colorado State University and also holds a Masters from the University of Colorado and Le Tourneau University.  He has leveraged this broad background in leadership and education throughout his career to step into challenging environments and quickly improve staff performance and bring stability and security to the technologies within the organizations he serves.  He has utilized services from the State Internet Portal Authority for the past seven year and is really excited to be on the Board to help the program have long term success.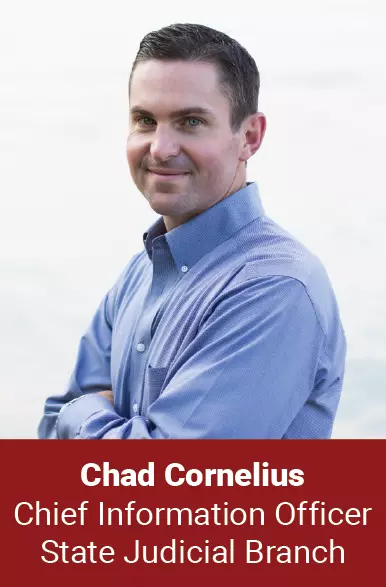 Chad Cornelius, Colorado State Judicial Branch
Chad Cornelius serves as the Chief Information Officer of the Colorado State Judicial Branch, providing executive leadership and technical direction. Chad's expertise is in software engineering, information security, and infrastructure and he brings over 20 years of experience to the role. He leads a strategic program responsible for cyber security policies, standards and procedures, risk management, security awareness, vulnerability and penetration tests, audits, application development, and technical readiness. Chad consults with Justices of the Supreme Court, Judges, Court Executives, and Chief Probation Officers to translate their business requirements into successful IT system solutions. Chad received both his Bachelor's and MBA at Regis University, graduating with honors.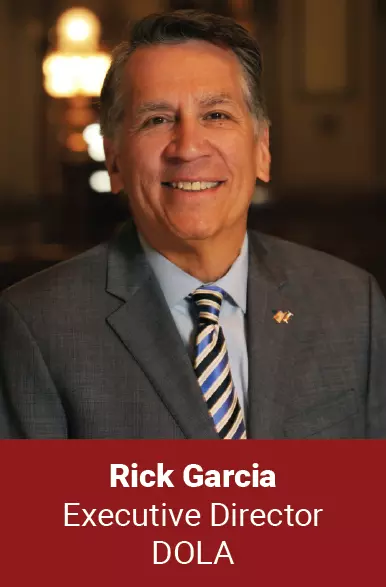 Rick Garcia, Department of Local Affairs
Rick M. Garcia, Executive Director of the Department of Local Affairs, has over 25 years of leadership experience ranging in the fields of government, nonprofit and private sectors across the nation. He most recently served as the Regional Administrator for the U.S. Department of Housing and Urban Development's (HUD) Region VIII in the administration of President Barack Obama. In addition, Rick was designated as Senior Policy Advisor to HUD Secretary Shaun Donovan on Sustainability representing the field offices. He also served as HUD liaison to the Denver Metropolitan's Regional Air Quality Council which advised the Governor and the General Assembly on Environmental Protection Agency's air quality standards. Read More.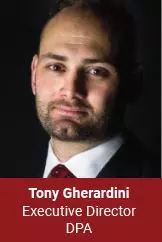 Anthony Gherardini, Department of Personnel and Administration
Tony Gherardini, serves the state of Colorado as the Executive Director of the Department of Personnel and Administration. Prior to his appointment to the Governor's cabinet, Tony has served in a variety of roles within state government including deputy director of the state's Office of Behavioral Health, Governor Polis' Director of Operations and Cabinet Affairs, and the Deputy Executive Director of the Colorado Department of Human Services. In addition to his work for the State of Colorado, Tony served 13 years in the Colorado Army National Guard and deployed to Afghanistan in 2010. During his service as an officer in the Army National Guard, Tony worked as a police officer and later as a detective for the Lakewood, CO Police Department.  Tony is a 2017 Aspen Institute Children and Families Ascend Fellow, and a former board member of Colorado's Statewide Internet Portal Authority and a current Serve Colorado, Commissioner. Tony holds a master's degree in Public Administration from the University of Colorado Denver, and a bachelor of arts degree in political science from Colorado State University.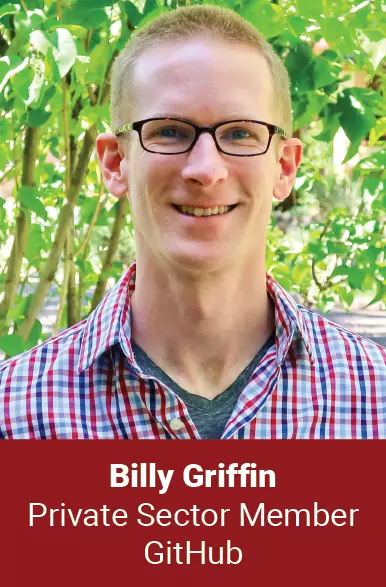 Billy has broad experience in technology, government, and finance. Billy currently works as a Senior Product Manager at GitHub, where he builds products to enable developers and organizations (including governments) to collaborate on their software development. Previously, Billy led a team at 18F to help government agencies (OPM, DoD, USDA, and others) procure technology more effectively and adopt modern software development best practices. Billy served on the board and finance committee of Colorado HealthOP, the Colorado health insurance cooperative set up under the ACA. Prior to 18F, Billy cofounded a company, Base Directory, that provides information to millions of service members and their families each year. Billy graduated from the U.S. Naval Academy and served in the Navy for nearly five years. He also has expertise in finance and investing; he completed an investment banking internship at Goldman Sachs and passed all three Chartered Financial Analyst (CFA) exams.
Billy is married and lives in Denver, CO. He enjoys traveling, reading, and enjoying Colorado's trails and wilderness.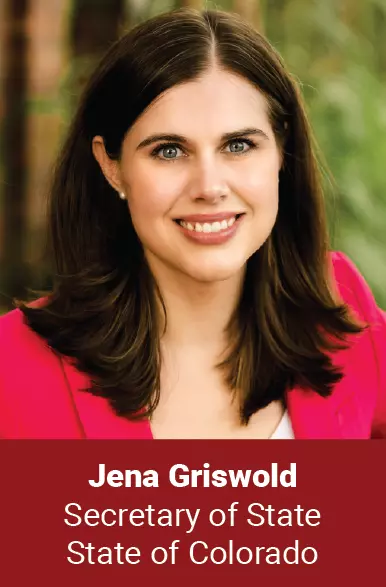 Jena Griswold, Secretary of State
Jena Marie Griswold is Colorado's 39th Secretary of State, and began her term on January 8, 2019. She is the youngest elected Secretary of State in the United States. Griswold grew up in a working-class family in rural Colorado and was the first person in her family to attend a four-year college and then law school. She knows first-hand how important it is for every vote to count and for every Coloradan's voice to be heard, no matter their background or income. She will protect our right to vote, fight secret political spending, improve transparency, and stand up to those who try to bend the rules or break the law. Griswold has practiced international anti-corruption law and worked as a voter protection attorney, where she made sure Coloradans were able to participate in our democracy. She served under John Hickenlooper as the Director of the Governor's DC Office, advocating on behalf of Colorado in D.C. During that time, Griswold was instrumental in bringing back hundreds of millions of relief dollars to help the Colorado communities hit by the 2013 flood. Before her election to Colorado Secretary of State, Griswold ran her own small business, a legal practice in Louisville. Read More.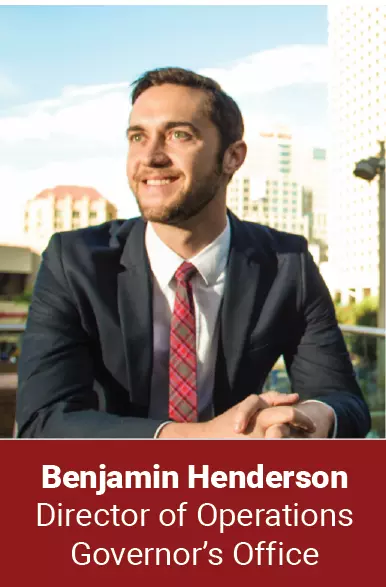 Benjamin Henderson, Governor's Office
Ben Henderson is the Director of Operations and Cabinet Affairs for Governor Polis. Graduating with his Masters in Public Administration from Arizona State University, Ben has spent his career focusing on improving social outcomes using math and science. He began his career as a Fiscal Analyst for the Arizona Legislature, worked in community and economic development for downtown Phoenix, and subsequently served as the Deputy COO for Governor Doug Ducey where he helped design and implement the Arizona Management System. Most recently Ben served as the Deputy Director for Budget in the Colorado Office of State Planning and Budgeting before taking on his current role. He currently lives in Denver with his dog and girlfriend and enjoys hiking and marching band.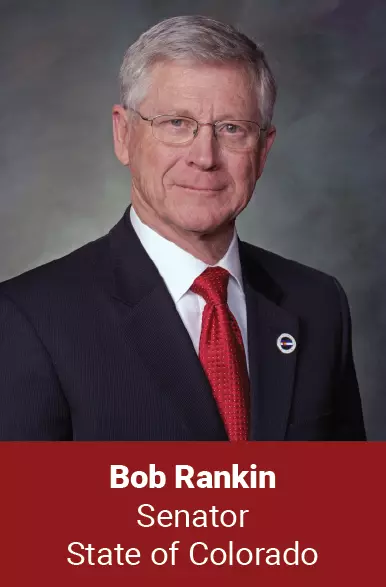 Bob Rankin, State Senator
Senator Rankin, of Aspen, CO, served six years in the Colorado House of Representatives before being selected by a vacancy committee to fill the vacant district 8 senate seat. He was elected by his caucus as the Senate Republican member of the Joint Budget Committee and as a result of his time on the committee from the house caucus, just completed his fifth year on that committee. He is also a member of the Senate Appropriations Committee. He has also served as a board member of the Colorado Tourism Office and co-chairs the Education Leadership Council, established by executive order to envision the future of education in Colorado.
The Senator has sponsored many bills during seven years of service in support of rural and western Colorado.  His recent successes are in the areas of health care and education reform.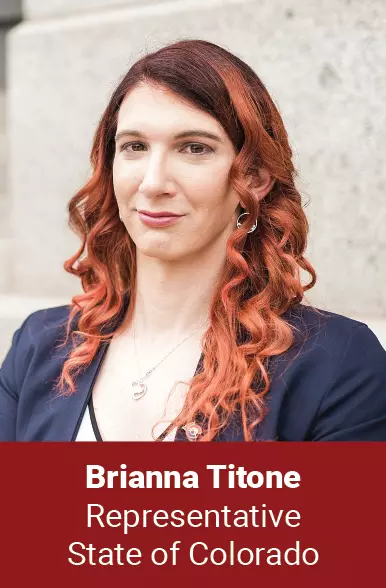 Brianna Titone, State Representative
Brianna has been a resident of Colorado since 2008. She is a geochemist and web developer. She serves in the 73rd General Assembly and represents the people of House District 27. She holds bachelor's degrees in Physics and Geology as well as Masters degrees in Geosciences and Information Communication Technology and works part time for a small Colorado software company as a full stack web developer. She is currently serving a second term on the Joint Technology Committee and was recently elected to Vice Chair.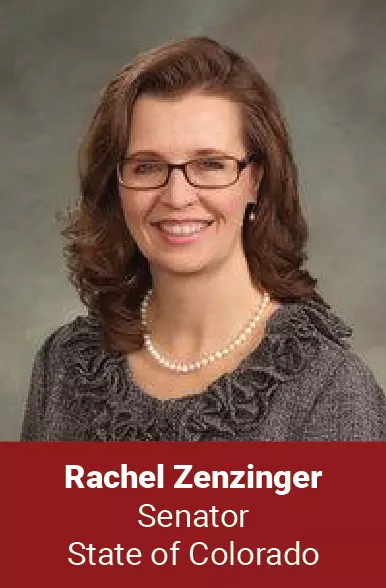 Rachel Zenzinger, State Senator
Rachel Zenzinger is the Colorado Senator from Arvada, representing Senate District 19 in Jefferson County. Senator Zenzinger grew up on the Western Slope and came to the Front Range to attend college at Regis University. She received both a Bachelor of Arts and a Master of Arts degree in Education, as well as her teaching license. She has a deep background in education and a strong passion for public schools. She has worked as the Project Manager for Colorado Educator Voice Fellowship, a branch of America Achieves. She previously served as advisor to the Colorado Opportunity Scholarship Initiative program in the Colorado Department of Higher Education; and she worked for Regis University in the Master of Arts in Education department where she specialized in Teacher Leadership. Since moving to Arvada in 2002, Senator Zenzinger has served the community in a variety of capacities, including as twice-elected member of the Arvada City Council, where she filled the role as Mayor Pro Tem. She left the City Council to accept an appointment to the State Senate, where she served in the 2014 session. Upon her election in 2016, Rachel returned to the State Senate, where she serves on the Senate Education Committee, the Senate Transportation Committee, the Statutory Revision Committee, and the Interim School Finance Committee. Read More.